GAY'S PRESSKIT
Name: Gay 
Instruments: Vocals, Acoustic guitar
Genre: Easy Rock, Indie, Folk, Singer/Songwriter
Email: musicinmyhead247@gmail.com
Website: gays-music.com
Facebook: facebook.com/gaysmusic1
Twitter: @GaysMusic1
Instagram: @gaysmusic
BIO:
Gay is a singer/songwriter from Southeastern Massachusetts. Writing and singing songs since she was young, she performed in bands and acoustic duos until she went solo in 2012. In the summer of 2013 she released her first original, full-length cd, "little peaces". In May of 2014, she was awarded WMRC's Best Local Acoustic Solo Act. In November of 2015 her powerful voice and soulful songwriting was showcased even further with release of her second cd, "Work In Progress...". In March of 2016 she opened for the incomparable singer/songwriter/storyteller Ellis Paul and then in May of 2016 she was honored with WMRC's 2016 Favorite Female Vocals award. In November of 2018, she was awarded MyFM101.3's Favorite Local Acoustic Act award.
Gay performs all over Southeastern Massachusetts and Rhode Island. Her sound is a bluesy combination of rock and folk which reflect her love of the many artists who have influenced her...James Taylor, Janis Joplin, The Allman Brothers, Bob Dylan, The Beatles, CSNY, Carole King, Stevie Nicks, Alanis Morrisette, Norah Jones, Hall & Oates, Simon & Garfunkel, Journey and many more. Gay sings covers of all of these artists, but her original music pays homage to them through her unique lyrics, observations, and reflections from many different influences in her life.
By Bill Copeland on June 9, 2016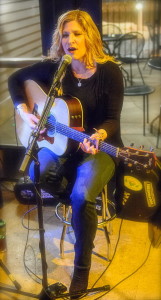 Photo Credit: Tim Rice
Gay Barboza is an artist at the height of her music career. Even though she took about 20 years off from the business to raise a family, Barboza has been releasing CDs, winning awards, and opening for name acts. Based in the Attleboro, Massachusetts music scene, Barboza, who has also been busy the last ten years running her own dance studio, plays out every weekend, all weekend long.
The first thing Ms. Barboza usually needs to clarify for people is her first name, Gay. It is not a nickname for Gayle. Her mother named her Gay for a positive sounding name just as her mother named her sister Merry. Her mother was going to name a third child Joy but she had a son whom she named Jay.
"It means happy, and it's been joyful all my life, let me just tell you, I say with complete sarcasm," she said. "When I was little, like first grade, I remember one of the kids came up to me and called me a fairy and a faggot. He stuck his tongue out at me and pushed me. I was this little kid. I was scared. But, I'd gotten really angry. I chased him in the school yard, and I pushed him down, and I punched him. I was six. Some switch got flipped when that happened, and I never took any crap from anybody." Barboza said that people still talk about her behind her back regarding her name and she has had to deal with some jerks over the years.
"I am for peace, love, and happiness," she said. "I am for absolute freedom of choice. I have plenty of friends that are gay. I have plenty of friends that are straight. I happen to be straight and married with the name Gay."
Barboza recently won the WMRC Local Music Awards for Favorite Female Vocalist at Liz's Diamond in Hopedale, Massachusetts. She was nominated for four other awards. "I was honored because that community is a bunch of really great people and talented musicians," she said. "It's been a pleasure to get to know everybody up in Milford." Barboza is particularly happy about her acquaintance with WMRC DJ and awards host organizer Ray Auger who she said is very instrumental in making things happen.
Barboza was not familiar with the WMRC awards until she was nominated for Best Solo Acoustic Act in 2014. She pulled into the establishment's parking lot at King's and found three hundred people attending. "I said 'What is this all about?' I had no idea. I think that was the second year they were in existence. They're very welcoming. It was super cool."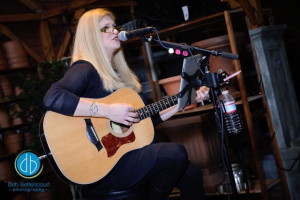 Photo Credit: Deb Bettencourt
In 2008, Barboza played in a duo called Good Gravy with her son's friend's father which began at a neighborhood barbecue. Barboza reentered the music scene more formally by playing a small place in Franklin, Massachusetts where she was heard by someone who connected her to the Hopedale Country Club. She also played Pepperoncini's in Milford, as a fill in for someone else, and that too lead to greater recognition.
"I went on my own after a couple of duos," Barboza said. Her first full length CD, Little Pieces, released in 2013, was well received, selling plenty of copies and gaining her further recognition and some more new rooms.
"That was really exciting because I'd never done anything before. I had never had any projects of any sort, but I'd been writing all of my life," she said. "The songs I'd been writing up until that point, I didn't take them super seriously. I was writing them at my kitchen table. I didn't know if they were any good or not. I was just doing my thing and that made me happy. I played a few songs for friends." Her friends encouraged her to do something with her material, and that is how her Little Pieces CD was born.
"I didn't have any experience with arranging the songs," she said. "I let my producer do the whole thing. I really didn't know what I was doing. It was different."
Barboza's latest CD, Work In Progress, released last Fall, also went over well in her local music scene. Her seven song CD was also released online as an eight track album. Producing herself this time around, she kept it stripped down to just her and her acoustic guitar, with the exception of electric fiddle player Kate Russo Thompson who accompanies Barboza on two tracks.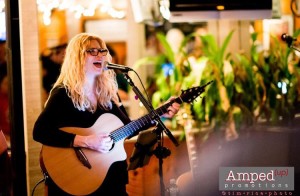 Photo Credit: Tim Rice
"I purposely left it like that because these songs were really raw," she said. "When I went into the studio, I knew I wanted to just sit down and not have much going on beside myself and my guitar. I listened to (studio advisers) and I tried a couple of things, and we talked about doing a couple of things. But, every time I went back to the songs I said 'No." The feedback I was getting from my friends and my musician friends was 'Geez, Little Pieces sounded great and the songs were great but I'd love to hear those songs without so much instrumentation." So Barboza used the stripped down approach the second time around, recording her newer songs at 9B Studio in Milford, producing the work herself, letting those who were turning the knobs know what she wanted her songs to sound like.
Barboza feels she's been equally influenced by singer-songwriters as well as bands. She had a weakness for James Taylor's music when she was growing up. She'd sing along to his records while developing harmonies where there weren't any.
"I think that his songwriting especially is very clear, very simple," Barboza said, "but right to the heart of everything. His melodies, the hooks, the harmonies; they're all put together well. He has a signature sound. You know who it is the moment he opens his mouth. I like the fact his music has evolved with the times. I like his old stuff. I like his new stuff."
Like many of her generation, Barboza grew up listening to Journey, Boston, Heart, and more than she could recall off of the top of her head.
"I always kind of gravitated to really smooth sounding vocalists," she said. "I also like hard driving stuff. I like Alanis Morrisette. I like how she had a rough edge to her voice and how she delved into different things. I like singers with distinct voices."
When Barboza wasn't busy with her music and raising her two children, one of whom just graduated high school last week, she filled in her spare time owning and operating an Attleboro, Massachusetts dance studio, AMJ Dance Studio, where she also teaches some of the classes.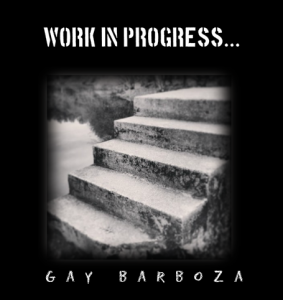 "I took over the business ten years ago, and I've been running it ever since. I love teaching dance. Dancing has always been something I love to do. I never got to dance out professionally, but I've always taught classes." Despite music having music and a beat, the art form has never influenced her music and her music has never impacted her interest in dance.
"They don't go together at all," she said. "When I perform musically, I don't move around a lot like I do when I dance. All my life, I could do it whenever. When it comes to singing, I'm a little bit more reserved. They don't really have anything to do with each other, although I love both of them almost equally."
Barboza, unable to teach Friday nights and Saturday mornings when her music career took off, had to cut back on dance lessons to be able to focus more on her singer-songwriter career. As music became something she found out she was actually good at, venues came calling.
"Instead of me calling restaurants asking if I could possibly play in their restaurants, restaurants were calling me left and right," she said. "I realized I must be doing something right."
Just some months ago, Barboza got to be the local opening act for long time area legend Ellis Paul. "It was a fully amazing moment," she said. "Even when it was happening, it was very surreal. I felt like I was out of my body." Barboza had been familiar with Ellis Paul through his manager whom she had found out about through a venue owner. The connection worked well, as Barboza got to sell a "boatload" of her CDs to Mr. Paul's fans.
"It was wicked cool. I was shocked. I kept having to go back to my bag," she said. "I was like 'Did I bring enough?"
Barboza has no delusions of grandeur. She knows music is a tough better. From this point in her career, she mainly wants to focus on self-improvement. She also wants to expand her audience.
"I really enjoyed opening for Ellis Paul," she said. "I'd like to be able to do that more. I'd like to be able to open up at festivals. I mean who wouldn't want to become a larger artist than what they are? But, realistically, I want to keep getting better as an artist and a musician."
For someone who took a 20 year hiatus from the biz, Barboza hit the ground running, and she's still running strong.
REVIEW:
Gay Barboza proves her worth with sophomore effort Work In Progress
By Bill Copeland on November 4, 2015
Gay Barboza's sophomore CD Work In Progress is a pared down offering of her beautiful voice, pretty melodies, and engaging chords. She carries her message well with this approach, as her voice is strikingly strong and rangy while her acoustic guitar work adds plenty of pluck to each of her original numbers.
Opening with "That Hill" Barboza shows she means business in the songwriting department. Focused on perseverance though the mission of life, Barboza encourages strength as one looks obstacles in the face before overcoming them. Her voice is particularly rich here and her shifting dynamics and sustains carry this number well.
With a little more grit in the guitar picking, Barboza turns "Unbroken" into a balance between sorrow and triumph. She sings with artful skill of having what it takes to get through bad experiences: "Sometimes pain doesn't scream out loud/It whispers and tells little lies/It's telling it's wrong it's real and it hurts/But you need to get over goodbyes." With some well placed dynamics and sustains in the melody line, Barboza stresses and teases more meaning out of her song, conjuring many emotions that make her listener feel what she's singing about.
"All Along" has a folk rock element in its drive and determined air. Barboza croons with an easy glide over her guitar line, like she's making her voice pivot around her guitar changes. This movement grows as she asserts her raspy vocal over greater sustains, with percolating richness that catches the ear and makes one wonder 'Who is this singer from Attleboro? It's a joy to hear her hold one of her vocal notes for several long moments.
"The Moon" benefits greatly from Kate Russo Thompson's moody violin. Its pretty melodic line puts a secondary emphasis on the theme, augmenting Barboza's gritty acoustic guitar melody with a bittersweet appeal. Barboza's vocal is loaded with emphatic emotions as she croons about the moon as a symbol of time and change. Voice, acoustic guitar, and violin are like separate emotional statements while also serving the whole with a meaningful, soulful cohesion.
Barboza moves into gospel belt territory on "Too Long." She sings with an emphatic oomph that can't be denied. She's ready to conquer her fears and her courage comes across like a force of nature. Putting that meaningful theme across with her hearty guitar and hefty vocal sustains, Barboza forges her feelings and talents into an anthem of strength and empowerment. This one carries itself with a spiritual ebullience that sweeps the listener along with it.
Title track Work In Progress finds Barboza even more contemplative. By focusing on how we never finish becoming who we are, she finds great meaning in the journey of life. Life brings experience. Experience shapes the person but the person never assumes a final shape, as we just keeps growing. Barboza caresses the meaning out of her lyrics with an understated grace in this one. Her voice is rich but restrained while her acoustic guitar picking remains gentle, a line of notes that patiently move the subtle melody along. Perfect.
"Move Away" features a frisky country fiddle from Thompson while Barboza sings like she's jauntily moving over an extra half step in the beat. Its down home living room sing along vibe makes it a winsome tune as much as Barboza's playful range and steady acoustic guitar line, a light brush of acoustic notes to create just the right cushion underneath the voice and fiddle.
Barboza closes out her album with the pared down sparse beauty of "What Is Love." Initially written for a friend's wedding dance, the singer-songwriter found that this understated gem of her song would make a nice addition to this album. Her vocal moves with the kind of grace and loveliness that should inform a record company executive know he's found a potential goldmine.
Barboza proves that a second time in the studio can do wonders for a singer-songwriter's career. Though more sparse than her previous effort, she manages to show herself at full power without anything to adorn her truth, beauty, and skill."
~Bill Copeland, Bill Copeland Music News
LETTERS:
"Her vocal moves with the kind of grace & loveliness that should inform a record company executive know he's found a potential goldmine"  ~Bill Copeland, Bill Copeland Music News
"If you haven't yet checked out Gay Barboza's Facebook and YouTube pages - put it on your list. She is an amazing local talent that will knock your socks off with the passion every vocalist should possess. She sings from her toes and nails it every time! We loved our backyard concert! Gay played on my back deck for about 30 of my friends and family. AMAZING is all I can say about it. If you have a private party coming up - Gay is your girl!!  I can't tell you how impressed the discriminating crowd that has been playing and singing for over 40 years was with (her) Angelic Voice..."  ~Dee G.
"My incredible friend sent me your CD as a Christmas gift, and I saved the perfect moment to listen to it for the first time, this past Saturday morning when I treated myself to a long drive and delicious coffee. Wow....just WOWWWWW. What a beautiful gift you have--effortless sound, lyrics that seem like you've read my thoughts, and gorgeous accompaniment by guitar...I am in awe....and I never felt ANY impulse to skip a song throughout the CD, only repeat. You are truly gifted. I wish I lived closer. Can't wait for my next trip in the car. Blessings from Texas!"  ~A.B.

"Gay sang this Neil Young's "Don't Let It Bring You Down" pitch perfect last night. Have not heard anyone do that song in a bar in a long time and she nailed it! She was killing it last night to a packed house...great show and great crowd - this lady can sing!!"  ~Steve S.
"So I'm out and about tonight...and all of a sudden? An angel started to sing! Beyond belief! She even turned U2 into a melodic prayer... #CantWaitToHearHerAgain."  ~Kelley M.
"Stevie Nicks called. You're making her nervous and she wants her songs back ;-) great singing last night!"
~Dan P.